BeyWarrior Battlers, or simply BeyWarriors, is the name of a Beyblade side-series solely developed and created by Hasbro, like in the manner of the Beyblade: Extreme Top System and BeyWheelz.
Said to be "inspired by the spirits" of the Beyblade: Shogun Steel anime series, the line will focus on a "figure-based battling system",[1] similar to the Spinning Spirits.
Overview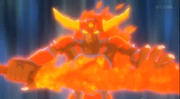 The line was announced on February 7, 2013 from a press release by Hasbro that detailed what they will showcase at the upcoming American International Toy Fair 2013 from February 10 to February 13.
Not much is actually known about this line other than that it will deal with an action-figure-like gimmick added to the Beyblades. They are said to allow for a five-piece customization with "interchangeable arms" and the ability to use different spirits from the anime, Beyblade: Shogun Steel.
A stadium or rather, "arena" has also been announced for them and will be part of an "Octagon Showdown Set" that is "intricately designed" and will reportedly allow players to "spin, crash, and ricochet". It bears a striking resemblance to the arena used in Fierce Fight! The Synchrom Battle between Zyro Kurogane and Kira Hayama in the anime, Beyblade: Shogun Steel.
There are no mentions of any specific type of Launchers from Hasbro's press release, as a ripcord will be inserted into the figure, then to be revved-up in a very similar fashion to the Rev Up Launcher and spun into battle.
Products
Currently twelve BeyWarriors have been showcased, with them being based on Samurai Ifrit, Ninja Salamander, a Synchrome of Salamander Ifrit, Guardian Leviathan, Archer Gryph, Ronin Dragooon, Bandid Goreim, a form of Berserker Begirados, and four other, unrecognizable BeyWarriors. Redecos will also be produced in addition to their normal coloring, alongside two-packs.
The BeyWarriors use a "BW-##" product code system, so Samurai Ifrit's product code would be "BW-01".
The BeyWarrior Battlers will be individually sold, with an approximate MSRP of $9.99 USD while the Octagon Showdown Set will be priced at about $39.99 USD.
Gallery
Toy Fair 2013
Unknown BeyWarriors
References
Ad blocker interference detected!
Wikia is a free-to-use site that makes money from advertising. We have a modified experience for viewers using ad blockers

Wikia is not accessible if you've made further modifications. Remove the custom ad blocker rule(s) and the page will load as expected.