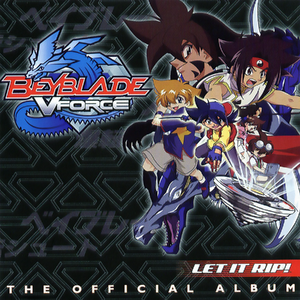 Beyblade, Let It Rip! is the official album of the original series of Beyblade. Track 1, 2, 5 and 8 are all from Beyblade season 1, track 10, 13 and 15 are from Beyblade: V-Force. There are two Beyblade anthems missing, "Swing Low - Let It Rip" and "Round after Round".
Tracklist
Let's Beyblade (Opening Theme) - Sick Kid Featuring Lukas Rossi
Never Gonna Take Me Down - Anthony Vanderburgh
Girls & Boys - Good Charlotte
Year 3000 - Busted
Let's Go Beybladers - Krystal Band
Buck Rogers - Feeder
Movies - Alien Ant Farm
All Across The Nation - The Black Europeans
Teenage Dirtbag - Wheatus
Underdog - Mudd
Nothing - A
How You Remind Me - Nickelback
Switchblade - Lenz
California Jack (Joseph Puig Mix) - Phantom Planet
Always Be In The Game - Jason Dean Bennison
Gallery
---
Ad blocker interference detected!
Wikia is a free-to-use site that makes money from advertising. We have a modified experience for viewers using ad blockers

Wikia is not accessible if you've made further modifications. Remove the custom ad blocker rule(s) and the page will load as expected.