Dark Bull H145SD (ダークブルH145SD, Daaku Buru H145SD) is a Balance-Type Beyblade released as part of the Hybrid Wheel System as a Booster. It was first released in Japan on June 20th, 2009 for 864¥.
Face Bolt: Bull
Main article: Face Bolt - Bull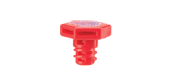 The face on this Beyblade depicts a Bull, which is represented by Taurus in the Zodiac.
Energy Ring: Bull
Main article: Energy Ring - Bull

Bull's original release colour is red, and features a two-winged design with two small openings between each wing. It is one of the heaviest Clear Wheels with excellent weight distribution. This makes it one of the best choices for HWS based Defense and Stamina customizations.
Fusion Wheel: Dark
Main article: Fusion Wheel - Dark

Dark has twelve spikes facing the clockwise direction. These protrusions are closely packed together with minimal space between each, resulting in an overall round shape. This shape hinders the Metal Wheel in two ways: its protrusions are not pronounced enough to provide sufficient Smash Attack, while the perimeter is interrupted too frequently for sufficient Stamina. Additionally, its weight is distributed over too large a surface area. There is thus no reason to use Dark in any competitive situation whatsoever.
Spin Track: Horn 145
Main article: Spin Track - Gorn 145
Spin Track - Gorn 145
Main article: Performance Tip - Semi Defense

| | | | | | | | | | | | |
| --- | --- | --- | --- | --- | --- | --- | --- | --- | --- | --- | --- |
| Weight: | 0.5 gram | Full Width: | 15.65 mm | Tip Width: | 7.0 mm | Full Height: | 8.74 mm | Tip Height: | 7.75 mm | Tip Angle: | 30° |
SD is the reason to buy this Beyblade. Just as the Semi-Flat Bottom has a sharper tip than Flat, so too does Semi-Defense when compared to Defense. Before the release of SD, D was the absolute best Stamina Bottom available, but SD quickly took over the top spot, as is evidenced by the following tests:
---
Virgo DF145D vs. Virgo DF145SD
Balance Stadium
Alternating Shots
Beylauncher
20 Battles
Results:
Virgo DF145SD: 18 wins
Virgo DF145D: 2 wins
SD win percentage: 90%
---
SD is not able to wobble as much as D, so for defensive purposes, D should still be chosen over SD if you are trying to add some Stamina to your Defense custom. That being said, WD would be a better choice than D for that situation, and also arguably for Stamina as well because with the even wider tip. With it, it is allowed to circle the stadium in some situations when it is on a larger angle towards the end of a battle, thus outspinning D or SD based opponents. However, sometimes this does not happen, and SD easily knocks over the wobbling WD custom before it topples over itself.
It really comes down to personal preference when deciding whether to use SD or WD because they are so closely matched. For pure Stamina, it is impossible to tell which would win a given match, but WD would prepare you for more situations by being able to take hits better than SD. Test both and decide for yourself which one works best for what you are trying to do.
Use in Stamina Customization
SD is an excellent stamina bottom, and its effectiveness can be utilized in the custom Duo Cygnus W145SD.
Variants
Gallery
Toyline
Dark Bull H145SD - Original Version
Overall
Dark Bull H145SD does have a few noteworthy parts, but really, only one absolutely necessary part; SD. SD is arguably one of the best Stamina Bottoms available, so that alone should be reason enough to purchase one. But, there is also H145 which is fun to experiment with, and Bull, one of the heaviest right-spin Clear Wheels, which is also an essential part of almost all current Defense and Stamina customizations. Every Blader should own at least one of this Beyblade.
Ad blocker interference detected!
Wikia is a free-to-use site that makes money from advertising. We have a modified experience for viewers using ad blockers

Wikia is not accessible if you've made further modifications. Remove the custom ad blocker rule(s) and the page will load as expected.