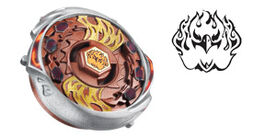 Electro Fireblaze is a Hasbro-Only, Electro Battler, Beyblade and a variation of Burn Fireblaze 135MS . It is in the Extreme Top System and was released summer 2011 in the United States.
Description
Electro Fireblaze is an electronic-Beyblade with flashing lights and battle sounds. It contains LED lights to achieve these actions. They resemble the Electronic BeyBlades from the Hasbro Metal Fusion Line.
Gallery

Ad blocker interference detected!
Wikia is a free-to-use site that makes money from advertising. We have a modified experience for viewers using ad blockers

Wikia is not accessible if you've made further modifications. Remove the custom ad blocker rule(s) and the page will load as expected.