Home
Talk

16
2,469pages on
this wiki
Beyblade (Japanese: ベイブレード, Beiburēdo) is an acclaimed Japanese-Canadian multimedia franchise
created by Japanese toy company, Takara Tomy and licensed and distributed by Hasbro. The franchise
has gone through three sagas, each different from the previous.

Beyblades have used a variety of Systems that determined the type of gameplay in each play. With
various parts, the ability to customize and some gimmicks hear-and-there, it would pave the way for new
Beyblade Systems to follow in their, own footsteps with now intents in innovation
Original Series:
Metal Saga:


Extreme Top System (XTS):

Spin-Offs:

Beyblade has been noteworthy for having several main characters throughout each saga. While some
characters payed homage to previous incarnations, the majority of the characters were unique to each
series.

Also since 2001, there have been many manga chapters and volumes released that would span throughout the age of Beyblade. Three stand out the most, and they are the Bakuten Shoot Beyblade, Metal Fight Beyblade and Metal Fight Beyblade Zero-G manga. With Takao Aoki as the creator of the first, while Takafumi Adachi created the last two.

About Beyblade Wiki
Beyblade Wiki is a collaborative encyclopedia about the hobby and anime, Beyblade. It is kept up-to-date by editors like you, to make sure Beyblade Wiki becomes the largest database on Beyblade. Become a member and you can help us expand Beyblade so it may grow. Need an introduction to Beyblade Wiki, then go to the Community Portal. Be sure to read our Policies, as it provides the guidelines for the content posted. Also, use our tutorial for information on how to create, format, and edit pages.
About Beyblade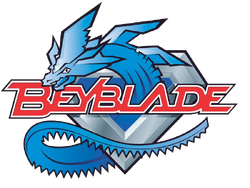 Beyblade
(Japanese:
ベイブレード
,
Beiburēdo
) is an acclaimed Japanese-Canadian multimedia franchise created by Japanese toy company,
Takara Tomy
and licensed and distributed by
Hasbro
. The franchise surrounds high-performance spinning tops called "Beyblades". Beyblades can be customized and are played by people called "Bladers" who challenge one-another in battles called "BeyBattles". Beyblade is also the name of various anime and manga series about a group of children who form teams with which they battle one another using Beyblades.
Beyblade is a very acclaimed toyline series, with over a billion units sold worldwide. Although it followed a hiatus after 2005, it returned in 2009 and received the same success it obtained as before.
Recent BeyWheelz Episode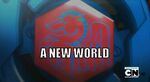 A New World
is the thirteenth episode of the
BeyWheelz
series. It has aired on October 6th, 2012 in the USA and has marked the end of the first season of
BeyWheelz
.
As the fierce fight for the true future of BeyWheelz is at stake, Sho has to fight his rival Odin, it's the white horse versus the shadow warrior, but Odin suddenly turns back and goes against the wicked Ryan Gladstone, and a fierce fight begins, but suddenly, Ryan's arm problem is now fixed, and Ryan then unleashes the hound of darkness and easily defeats Odin. Ryan then sets his final target as Sho Tenma. Sho must now use the bonds of all Wheelers to defeat the hound of darkness once and for all, for the future of BeyWheelz. (more info...)
Latest Manga Chapter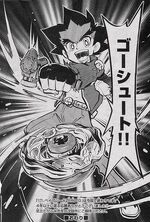 I Beyblade Forever!! (Japanese: ベイブレードよ、永遠に!!, Beibureedo yo, eien ni!!) is the ninth and last chapter of the Metal Fight Beyblade Zero-G manga and the 51st and last chapter of the Metal Fight Beyblade manga, overall. It was released in CoroCoro December on November 15, 2012 and was subsequently re-released in Metal Fight Beyblade Zero-G Vol. 2 on November 28, 2012.
With his new Beyblade in the form of Gladiator Bahamdia SP230GF, the vile Kira Hayama is already in the process of unleashing total damnation to the world of Beyblade with the destructive force of nature that is hidden in Bahamdia. While Ginga Hagane has returned to teach the art of Synchrom to the young Blader of Fire, Zero Kurogane, Ginga is now forced to do battle with his former foe, Daidouji. Now armed with a Saramanda Ifraid W145CF, Zero must now rely only on his own strength to prevent Kira from assuming a total Armageddon to the world. His friends need Zero to save them; but Zero knows that this is not just to defeat Kira Hayama; it is to avenge his best friend, Shinobu Hiryūin, and to pass the ultimate test to discover whether he can be the No. 1 Blader. This is the final battle. (more info...)
Maintenance
We're being flooded with Stub articles that need putting into more depth! Earn yourself some edits, and potentially a few more badges by expanding these pages!
---
The entire Metal Fusion's episode articles need bringing up to date to be similar to that of 4D's and Zero-G's articles. If you have the time, Help restore these articles to their former glory and boost your "Episodes" Badge Meter today!
---
Calling all veterans! All Beyblade Articles from the Original Series are in need of urgent help! If you have any information on these historic Beys, please add to their pages!
News
Create blog post
Blogs
After some thinking and analyzing of the press release detailing Beyblade Legends, I'm starting to a…

Read more >

Amazon.ca has listed several new products part of the BeyWarriors BeyRaiderz and Beyblade Legends toy …

Read more >

What an interesting turn of events. In my previous Blog post, I predicted we would be seeing BeyWarr…

Read more >
See more >
Create blog post
Blogs
If you're a Beyblade fan you must at least know who the BeybladeGeeks are, if not then click here. …

Read more >

EDIT: Let the tournament commence! All "Round of 16" matches must be completed ASAP.



Click here to go…

Read more >


Click here to go to the Tournament Brackets Click here to go to the Participants List
Click here to …

Read more >
See more >
Polls
If Ryuga and Sakyo Kurayami had a Beybattle, who would lose?
What is your favourite Beyblade anime series?
Beyblade Wiki Network
Beyblade Fanon Wiki

A wiki where you can write your own fan fiction about Beyblade.

Beyblade Wiki

An encyclopedia all about Beyblade.

Beyblade Answers

A wiki where you can ask or answer questions about Beyblade
Member of Wikia: Toys and Games

Wikia: Toys and Games (TaG) is a family of open-content encyclopedias based on toy/game franchises, vowing to help each-other, wherever help is needed, and create a family of unified wikis.