Home
Talk

16
2,515pages on
this wiki
About Beyblade Wiki
Beyblade Wiki is a collaborative encyclopedia about the hobby and anime, Beyblade. It is kept up-to-date by editors like you, to make sure Beyblade Wiki becomes the largest database on Beyblade. Become a member and you can help us expand Beyblade so it may grow. Need an introduction to Beyblade Wiki, then go to the Community Portal. Be sure to read our Policies, as it provides the guidelines for the content posted. Also, use our tutorial for information on how to create, format, and edit pages.
Featured Article: April
Doji (大道寺, Daidouji) was one of the main antagonists of the anime and manga series, Beyblade: Metal Fusion. He was an enemy of Gingka and the former leader of Dark Nebula who had Ryuga. He used to own Dark Wolf DF145FS. Doji seeked the power of the "Forbidden Bey", Lightning L-Drago 100HF.
Doji and Ryuga were the ones who invaded Koma Village, Gingka's hometown, and stole the Forbidden Bey Lightning L-Drago from it. Being the head of Dark Nebula, and having Ryuga on his side, he arranged the Battle Bladers tournament in order to give Ryuga more power so they could eventually rule the world. This plan backfired when Ryuga used the dark power of L-Drago and attacked Doji; sucking most of the life energy within him for L-Drago and left him waiting for death.
Despite this major health damage, Doji would not give up and started to wear a long coat that covered himself, a top hat, an artificial leg, and a walking cane due to the attack he suffered at the hands of L-Drago. As a result, he found Rago and the Nemesis Bladers and brought them to Pluto as he made his ultimate return in Beyblade: Metal Fury, only to die once again due to Ryuga's new Special Move.
Doji finally returned in the Shogun Steel anime in A New War, but this time, he was apparently revived by Merci. He was converted to light energy stored within the Hades computer system. His new form poses as a threat to the WBBA and the future of beyblading. (more info...)
Latest Episode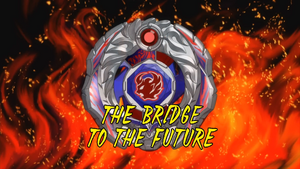 The Bridge to the Future (미래로 가는 다리, Milaelo Ganeun Dali) is the 45th episode of the Beyblade: Shogun Steel season and the 189th episode of Metal Saga. It first aired on June 11, 2013 in South Korea.
This is episode 7 of the lost episodes never aired in Japan, being the last of which. It is also the final episode of the Beyblade: Shogun Steel season. (more...)
List of Metal Saga episodes • List of Beyblade: Shogun Steel episodes
Upcoming Releases
Beyblade news

Create blog post

Blogs

Takara Tomy continues to host even more Metal Fight Beyblade tournaments in Japan. These are starting …

Read more >

Sonokong is the South Korean distributor for Beyblade toys in South Korea. Their latest toy line, Me…

Read more >

Osamu Mashimo, the creator of Beyblade is going to be demoted from one of his positions. Currently e…

Read more >

See more >

Community news

Create blog post

Blogs


Yeah, we got one of those. Pretty cool, huh? This means Beyblade Wiki is being promoted across all…


Read more >

If you're a Beyblade fan you must at least know who the BeybladeGeeks are, if not then click here. …

Read more >

EDIT: Let the tournament commence! All "Round of 16" matches must be completed ASAP.



Click here to go…

Read more >

See more >
Official Friends
Follow Us
Featured Media: April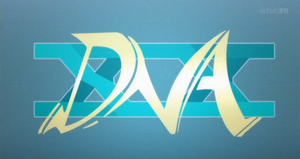 Latest Chapter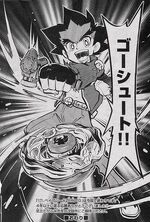 I Beyblade Forever!! (Japanese: ベイブレードよ、永遠に!!, Beibureedo yo, eien ni!!) is the ninth and last chapter of the Metal Fight Beyblade Zero-G manga and the 51st and last chapter of the Metal Fight Beyblade manga, overall. It was released in CoroCoro December on November 15, 2012 and was subsequently re-released in Metal Fight Beyblade Zero-G Vol. 2 on November 28, 2012. (more info...)
Got a question? Try asking a contributor!
Community Poll: March
Poll #1:
Poll #2:
Favorite Beyblade owned by Doji?
On This Day
No historically notable events in Beyblade happened today.
Join the Chat
Beyblade Wiki Network
Beyblade Fanon Wiki

A wiki where you can write your own fan fiction about Beyblade.

Beyblade Wiki

An encyclopedia all about Beyblade.

Beyblade Answers

A wiki where you can ask or answer questions about Beyblade
Member of Wikia: Toys and Games

Wikia: Toys and Games (TaG) is a family of open-content encyclopedias based on toy/game franchises, vowing to help each-other, wherever help is needed, and create a family of unified wikis.