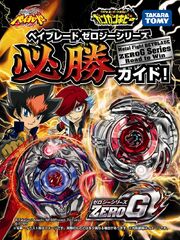 The Metal Fight Beyblade Zero-G series - Road to Win Guide is a miniature Beyblade booklet included with the First Zero-G Battle Set. It essentially serves as an advertisement for all Zero-G releases beginning with Samurai Ifraid W145CF unto the First Zero-G Battle Set, along with some other future releases.
Overview
The booklet's cover depicts anime characters and rivals, Zero Kurogane and Sakyo Kurayami with their Beyblades, Samurai Ifraid W145CF and Dark Knight Dragooon LW160BSF, respectively. Surrounded by various instances of flames and lightning-bolts flashing throughout.
It is compromised as only seven extremely small pages (including the cover) with the advertisements to be seen, front-and-back.
It first begins by explaining the Zero-G Attack Type Stadium, its swaying gimmick and the three-steps to fight in the stadium, including Zero-G Attack. It then showcases its two variants, the green Zero-G Defense Type Stadium and the red, Zero-G Balance Type Stadium along with a short summary of them.
It later switches its focus to Synchrom and illustrates this with a Synchrom combo of MSF Saramanda Ifraid W145CF and MSF Ifraid Saramanda W145CF. It is succeeded with a list of the current know Elements at the time: Fire, Water, Sky and Earth. It uses these cosmetics to brand Samurai Ifraid W145CF and Shinobi Saramanda SW145SD as Fire, with Pirates Killerken A230JSB as Water in a Synchrom of Ifraid Killerken A230JSB.
The next section is made-up of two pages and also advertises the Elements. Beginning in a clockwise manner, Samurai Ifraid W145CF (Attack-Type) for Fire, Guardian Revizer 160SB (Defense-Type) for Water, Dark Knight Dragooon LW160BSF (Attack-Type) for Sky and then proceeds to a silhouette of Berserker Begirados SR200BWD (Stamina-Type) for Earth. Along with their manga Beasts, What is interesting about this though, is that it proceeds to feature two other Beys represented by a silhouetted Samurai Ifraid for each. However they can be easily deciphered as Samurai Pegasis and Gladiator Bahamudia; not mentioned but labeled for God for their Element.
The back-side of the booklet then features the rules for organized tournament play (Zero-G ruling_ by Takara Tomy with another illustration of Zero from the anime. Following this are all the Beyblades released thus far organized by their Element and giving off some "recommended combos" that Takara Tomy and the WBBA suggests.
There is Samurai Ifraid W145CF, Shinobi Saramanda SW145SD and Thief Phoenic E230GCF for Fire with the combos of MSF Phoenic Ifraid BD145XF and the "Ultimate Fire-Bey", MSF Saramanda Ifraid E230GCF.
Water features Guardian Revizer 160SB. Pirates Orojya 145D and Pirates Killerken A230JSB. The combos gathered are an MSF Killerken Orojya AD145JB and its ultimate combo: MSF Orojya Revizer A230JSB.
The last panels show the Sky-Type Beys, Dark Knight Dragooon LW160BSF, Archer Gryph C145S and Archer Gargole SA165WSF. The first combo features is an MSF Gargole Dragooon UW145RSF and its ultimate: MSF Gryph Dragooon SA165WSF.
Ad blocker interference detected!
Wikia is a free-to-use site that makes money from advertising. We have a modified experience for viewers using ad blockers

Wikia is not accessible if you've made further modifications. Remove the custom ad blocker rule(s) and the page will load as expected.