"
I do not regret anymore that it was born.
"

—Ryuga

Ryuga (竜牙 Ryūga), also known as The Dragon Emperor, was the main deuteragonist in the Metal Saga, making his debut in Beyblade: Metal Fusion when he was the main antagonist.
Physical Appearance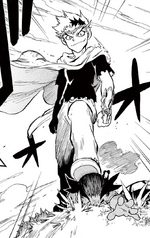 Ryuga is a tall, muscular individual with a slim build and unique outlook. Ryuga has spiky hair of dual shades, while wearing a dragon crown with sharp eyebrows and even sharper eyes. He has quite pointed ears, as well as a small nose and mouth to complete his facial features.
Ryuga originally wore a ripped T-shirt under a torn and battered cloak, until he changed and began to wear a black and gold tank top underneath a white lab coat which is hooked across the top of his chest so it stays on while he doesn't wear it with his arms in the sleeves.
He wears black pants that match his tank top and tuck into his boots, and also has a belt has hooks for his equipment including his Beyblade Launcher. Ryuga also has a unique Beyblade Holster he wears on his arm to recharge the incredible power of L-Drago.
Personality
Ryuga was originally a ruthless individual who was brought up by the Dark Nebula to be the chosen one who would use L-Drago to reform the world with its power. Ryuga became overconfident and power hungry, looking to crush any and every opponent especially the Hagane's including Ryu and Ginga who hold the Pegasis. Ryuga has no tolerance for weakness and will exploit it by crushing anyone, including his teammates such as Busujima and Tobio.
After Ryuga was defeated by Ginga he reformed with a new L-Drago to become a much more powerful Beyblade, looking to simply show everyone his power. Although he would never admit it, Ryuga gained a deep love for Beyblade as it was the only way he could prove he earned his place in the world.
Ryuga was portrayed as an evil and merciless person to his few allies and enemies. He loved to attack the Beys of his enemies until the Bey was defeated. He also enjoyed terrorizing other Beybladers and had a power-hungry personality; he despised losing a battle as well. He was cocky, thinking that he had the power to beat anyone else before him. In the finale, Blader's Spirit, it was revealed that Ryuga's actions was caused by Lightning L-Drago's possession over him.
After being freed from the dark power, Ryuga obtained powerful knowledge about becoming one with a Beyblade and understanding it, in contrast to his power-hungry personality from before. Regaining control of his own mind with a new more powerful L-Drago, Ryuga was now a stronger and more proud person who no longer stood as the face of evil. Rather now Ryuga decided to do simply what he liked instead of wrong, he even decided to lecture Tsubasa in order to help him gain control of his dark power.
Even so, Ryuga still had plenty of rage on the inside, as he was not very fond of Hades Inc., or Julian Konzern's left rotating beyblade. In the end, Ryuga stood with Gingka against Hades Inc., but not to do what's right, just to do what he wanted to get back at them.
During Metal Fury, Ryuga still follows the same ideals as in Metal Masters, initially not joining Gingka and the other legendary bladers' fight against Nemesis in favor of his own personal gains and displaying the standoffish personality he has had since the start of the series. However he begins to become more empathic, allowing Kenta to follow and challenge him and even giving him his star fragment once Kenta gains his respect. Considering how Ryuga treated Yu in the first series, ignoring him and basically leaving him to be destroyed by Reiji Mizuchi, you can see this is a huge progression in his character.
History
Ryuga was raised by the Dark Nebula organization and nurtured into becoming the owner of one of the first two Beyblades to ever exist; L-Drago. L-Drago contained a dark power that the Dark Nebula wished to control by using Ryuga's skill as a Beyblader to dominate the world by destroying L-Drago's opposite; Pegasus .
Ryuga was a former member of Dark Nebula and the ultimate rival of Gingka Hagane. He was defeated by Gingka only once; all the other battles against him, Ryuga came out on top, making him legendary. He was the strongest member in the Dark Nebula, being the one who owned the Forbidden Bey. He was a Legendary Blader as well, specifically part of the Bladers of the Four Seasons as the Blader of Summer, where the power of Gaia was separated into the four seasons of Earth and the four Bladers, Gingka Hagane, Kyoya Tategami, Chris, and Ryuga. Ryuga represents the Season of Summer. He later gave his Star Fragment to his new close friend, Kenta Yumiya. Introduced as a villain character in Metal Fusion, Ryuga was affiliated with the Dark Nebula Organization, who aided him in the theft of the Lightning L-Drago 100HF from Koma Village. This incident served as the character motivation for Gingka when Ryuga abandoned Gingka's father in rubble after the first encounter.The power of the Forbidden Bey would influence Ryuga and consume him, draining his energy and turning Ryuga into a monster. But after being defeated by Gingka, Ryuga would begin a journey of redemption and eventually tame Lightning L-Drago, becoming the Meteo L-Drago LW105LF in the process. He mentored Tsubasa Otori during Metal Masters who was struggling with his dark power and even acted as a temporary reserve member during the Beyblade World Championships for Team Gan Gan Galaxy for their match against Jack of Team Star Breaker.
During Metal Fury, Ryuga was revealed as a Legendary Blader, specifically one of the Bladers of the Four Seasons representing summer. He finds a travelling companion in Kenta Yumiya, who would become Ryuga's closest and only friend. This bond would ultimately convince Ryuga to cooperate with Gingka and the group in locating the remaining Legendary Bladers. Ryuga and Kenta traveled a few times, battling in tournaments and such as well as being present when Nemesis was revived. After giving his piece of the Star Fragment to Kenta Yumia, L-Drago Destructor F:S disintegrated and the Dragon Emperor himself disappeared. It is unknown whether Ryuga and L-Drago Destructor F:S survived after passing on the Star Fragment to Kenta Yumia and Flame Sagittario C145S (Now Flash Sagittario 230WD). But in Beyblade Shogun Steel, it appeared that Sakio has a reverse rotation bey and he said that a legendary blader gave him, and his bey looks like a dragon. Some people think that it may had given by Ryuga, but is still unknown whether had he survived.
Plot
Beybattles
Due to only losing two official battles and having six battles without an outcome, Ryuga is considered to be the strongest Blader in the Beyblade anime, even though he doesn't hold the title of Number 1 Blader held by Gingka. His first loss came in the Battle Blader championships against Gingka and his second loss was due to Rago gaining some of L-Drago's power.
Beyblades
Special Moves
Lightning L-Drago
Meteo L-Drago
L-Drago Destroy
Others
竜皇天翔殺 Dragon Emperor: Soaring Attack:
竜皇絶命爪 Dragon Emperor: Death Claw:
Quotes
(Ryuga's first dialogue in the series) "Hheee! Well, long time no see, Gingka Hagane!"
"I'll say it a thousand times, your father couldn't cut it! If the father isn't tough enough, what do you think the son will be like? The same, so grovel at my feet like your father did!" (Ryuga to Gingka) (episode 13 "Metal Fusion")
"I can't remember anyone taking so many of my direct hits without completely collapsing. I'll give you credit for that!"
"You got it? KAPEESH!!!"
"I don't get the joke..."
"Playtime's Over!"
Who's joking, Doji? (Ryuga to Doji in Metal Fusion)
"You're not an eagle. You're a.................CHICKEN!!!!!" (Ryuga to Tsubasa)
"More power for my L-Drago!"
"Roar louder, L-Drago!"
"Roar now, Meteo L-Drago!"
"Cut it out!"
"It's time to finish this!"
"This is pathetic..."
"You call that children's magic show the Dark Power? Don't make me laugh!"
"That being said, I have gotten my hands on a new power, that makes the old Dark Force look like a toddler throwing a tantrum!"
"There is only one reverse rotating bey that may exist in this world. Only one! This Meteo L-Drago alone!"
"L-Drago isn't satisfied yet. He needs more!"
"Gingka, I will not allow you to lose to those fake bladers the next match, do understand what I'm saying?"(Ryuga to Gingka in Episode 42 "Metal Masters")
"Be careful what you poke with a stick, it just might bite you!" (Beyblade Metal Masters Episode 88)
"Is that all you've got? This is my first battle in a long time, so could you try to make it more fun?"
"The Dark Nebula has no need for frightened people!"
(Ryuga has launched L-Drago at the Spiral Core) "What are you waiting for, Gingka?"
"I alone managed to beat back the dark power and succeeded in drawing out L-Drago's ultimate ability, and I harness the true power that I gain by putting my very life on the line to be the best I can be in my battles!" 
"In the end, you're nothing but a caged bird thinking you've become stronger from the pet food you were given, and thinking you could defeat the Dragon Emperor. It's just hilarious!" (Ryuga to Jack)
"Hey, Clown boy!" (Ryuga to Jack)
"I'm disappointed in you Gingka, did you really think you could face me when you obviously don't even know the power of your own bey yet!?"  
"How dare you, punk!?"
"I will... not lose! Even if my opponent is a god, I will defeat anyone who stands in my way! Do you hear me? My name is Ryuga. I reign over this world as the strongest, the Dragon Emperor himself!"
"There's only place for one left rotating Bey, and that's L-Drago."
"That one time, it was only for a brief shining moment, I became serious. I promised. TAKE IT KENTA!!..."
Gallery
Main article: Ryuga/Gallery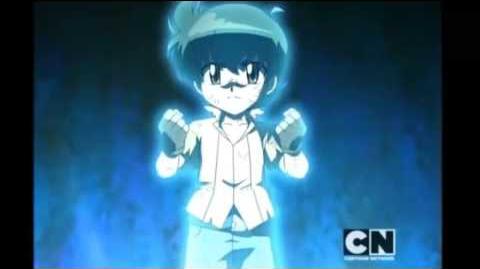 Trivia
Like Ryuga's, many members of the Dark Nebula Organization have a streak of hair a different color than the rest of their hair.
It is possible that Ryuga owned a generic Beyblade before he obtained Lightning L-Drago.
It is speculated that Ryuga was dead in the final episode of Beyblade: Metal Fury, because his spirit is shown in the sky when Gingka was thanking him for helping the defeat of Nemesis but it never was really confirmed. It also should be noted that Ryuga never died in the Manga. This belief is however contested by Sakyo Kurayami in Beyblade: Shogun Steel by him saying he inherited his Ronin Dragoon LW160BSF from a Legendary Blader, which let suppose that Ryuga survived the Nemesis crisis and simply disappeared of circulation.
In Beyblade Metal Masters, he often handspins his Bey at weaker opponents instead of using his launcher. He does this to demonstrate his Bey's spin-stealing ability.
Ryuga is one of the only few characters who had major roles in all 3 series whose clothes didn't change.
Despite Kenta's efforts, Ryuga never went over to help Gingka, merely trying to take every single star fragment to make L-Drago "The True Dragon Emperor".
The only times when he actually lost his temper was when someone actually beat him or reminded of the time when he had Lightning L-Drago.
Meteo L-Drago LW105LF is one of the only Beys in the anime and the only L-Drago Bey that has not lost any battles as Lightning L-Drago 100HF lost to Storm Pegasus 105RF and L-Drago Destructor F:S lost to Diablo Nemesis X:D.
The capsule Ryuga is in while in the Dark Nebula could be seen as a type of Arrangement System.
Ryuga can be also seen as the Brooklyn of the Metal Saga.
His Shogun Steel counterpart is Sakyo Kurayami, it is possible that they are related because in Zero-G because Sakyo is said to have the spirit of Ryuga.
Aguma can be seen as the counterpart of him as they have several similarities:

Both have a bit similar hair style.
Sometimes, both are very mean and impolite.
It takes a lot of time to convince them to join the good side.
Both have capes, although the style and color are different.
Both are very powerful.
They have similar style of eyebrow, although Aguma's more bushy.
They both share a dark attitude.

Ryuga is known to have a brother that goes by the name of Ryuto. However, this has only been confirmed in the Manga.
There are several hints in Beyblade Shogun Steel that Ryuga may still be alive in the anime, because Sakyo claims he inherited Ronin Dragoon LW160BSF from a Legendary Blader. This claim could also suggest that he had learned how to create Beyblades, and made Dragoon using L-Drago as a basis.

There has been no physical apperance by Ryuga though in the season.

All of his special moves start with the words "Dragon Emperor".
He was the only character to have his Bey's spirit change forms after an evolution.
It's possible that Ryuga has the ability to teleport. This is shown when he managed to get to the Spiral Core and the lost kingdom of Hades, seemingly without any means of transport. Also, in Metal Fury, he seemed to appear and disappear in bolts of red lightning.
This could also explain how Ryuga could still be alive and the way he disappeared made it look like he died, also, his presumed passing was much like Storm Pegasus' in Metal Fusion, to which Ryo told Gingka, "Once it has rested its wings somewhere, there is a good chance that it'll regain its strength and return," showing that Ryuga will (or at least eventually) return as well.
Ryuga is one of the two bladers that has a Dark Move instead of a Special Move. The other one is Reiji.
In the manga, Ryuga is still alive in Metal Fight Beyblade Shogun Steel (Zero-G) manga.
Ryuga's given name roughly translates to "Dragon Fang", most probably as a reference to his character.
Ad blocker interference detected!
Wikia is a free-to-use site that makes money from advertising. We have a modified experience for viewers using ad blockers

Wikia is not accessible if you've made further modifications. Remove the custom ad blocker rule(s) and the page will load as expected.