Storm Leone
is a
Beyblade
that appears in the
B-Pit
's beyshop in episode 3.
Face Bolt: Cetus
The Face on this Beyblade seems to be Cetus, or a goat's head.
Energy Ring: Leone
The regular release of Leone is a transparent, blue-green piece. Leone is very circular with small ridge details. This one however, is yellow.
Fusion Wheel: Storm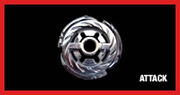 The Storm wheel has of three wing like forms. The wheel is a cheaper alternative for that of Quetzalcoatl, and is considered by many to be inferior to the Lightning Metal Wheel.
Spin Track: D125
Defense 125 is a standard 125 Spin Track with the addition of a plastic ring surrounding it. This ring's purpose is to absorb hits from low Attackers and increase weight. However, since the Track itself is so low-set, and close to the center of the Bey, it rarely comes in direct contact with an opposing B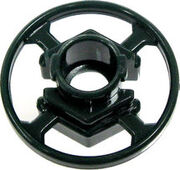 ey. The Track was originally made for Defense-Types, but due to its small diameter, it does not work efficiently. The ring around it helps stamina, though, as it flows with the air current around it. D125 is decent, but Tracks like Boost Disk 145 and Triple Height 170 greatly outclass it. Defense 125 is a dark grey in color. 
Performance Tip: Flat Sharp
FS has a flat tip with a small, spike tip in the center. As a result, when launched at a straight angle, the Beyblade spins with very little movement. However, when tilted, either from the contact of an opposing Beyblade or from the launch, the Bottom moves in an offensive pattern. However, it suffers from the same problems as other Balance Bottoms, in that the two qualities are compromised, resulting in mediocre performance in both fields. When eroded, however, it will act like a defense tip, with hardly no 'attack mode' at all. 
Other Version
None
Gallery
Ad blocker interference detected!
Wikia is a free-to-use site that makes money from advertising. We have a modified experience for viewers using ad blockers

Wikia is not accessible if you've made further modifications. Remove the custom ad blocker rule(s) and the page will load as expected.