Taro Tate (水原 太郎, Mizuhara Tarou) is Max's father. Taro lives in Japan and owns a Beyhobby shop with a Beyblade dish on the floor below it.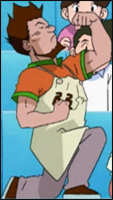 He is generally jovial and generous, as he helps Tyson, Max and the other Bladebreakers with their beyblades.
Ad blocker interference detected!
Wikia is a free-to-use site that makes money from advertising. We have a modified experience for viewers using ad blockers

Wikia is not accessible if you've made further modifications. Remove the custom ad blocker rule(s) and the page will load as expected.